What is Graston Technique?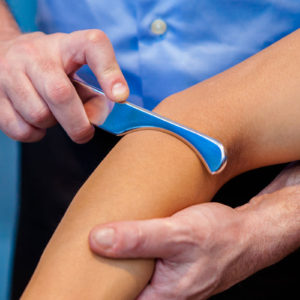 The Graston Technique is an instrument assisted soft tissue mobilization therapy. Using specifically engineered stainless steel tools to massage and break-up scar tissue around injured joints and muscles,  it's helpful in breaking up scar tissue adhesions, fascial restrictions and identifying areas of chronic fibrosis or inflammation.
Graston is known to relieve cervical strain, golfer's elbow and tennis elbow, Achilles tendinosis, rotator cuff tendinosis, and lumbar strain or sprain.
Graston is especially effective at "breaking-up" this scar tissue from areas of chronic or traumatic injury and inflammation, allowing for increased blood flow and healing, thus restoring optimal range of motion.
Graston is used for a number of conditions, but this therapy is especially popular for treating tennis elbow, carpal tunnel syndrome and working around healed surgical scars for improving range of motion.
Benefits of Graston Technique:
Although the Graston technique is not new, it was used only by athletes; its use has now extended to everyone else.
Accelerates the healing process
Reduces the need for anti-inflammatory drugs
Resolves chronic diseases, including those that we believe to be permanent
Restores elasticity of the tissues
Increase the number of fibroblast
Promotes Collagen synthesis
The Graston technique is so effective in acute, chronic and post-surgical soft tissue injuries, that it is changing the way physicians, chiropractors, physiotherapists etc. treat acute and chronic soft tissue injuries (muscles/facials).
Not Everyone Can Practice Graston Technique
Not every chiropractor can apply this technique, since he or she must be certified. In addition, the chiropractor must perform an evaluation before applying the therapy, whether he or she uses Graston technique or any other chiropractic treatment.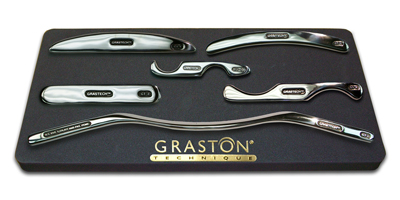 Who Can Benefit from Graston Technique?
Any individual who experiences pain and loss of function following surgery, injury, and tendinitis may benefit from the Graston Technique. Some clinical diagnoses which have responded well to the Graston Technique include:
Carpal Tunnel Syndrome (wrist pain)
Plantar Fasciitis (foot and arch pain)
Cervical Strain/Sprain (neck pain)
Lumbar Sprain/Strain (low back pain)
Rotator Cuff Tendinitis (shoulder)
Patellofemoral Disorders (knee pain)
Later Epicondylitis (tennis elbow)
Achilles Tendinitis (ankle pain)
Medial Epicondylitis (golfers elbow)
OTHER CHIROPRACTIC TECHNIQUES
CHIROPRACTIC RATES
Chiropractic rates include taxes.
*Pediatric, student and senior discounts apply.